Saigon Soul Revival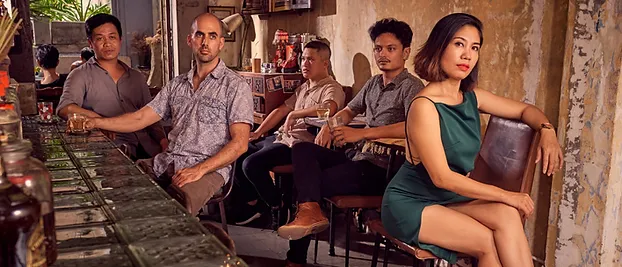 Ho Chi Minh City based band, Saigon Soul Revival has been bringing alternative pre 1975 music from Saigon back to the stage since 2016 with their stunning live performances. Honouring the original composers, singers and the golden era from which this music (Nhạc Vàng) came the band applies new arrangements and interpretations of old Vietnamese songs.
With tight grooves, psychedelic textures and a powerful unique sound, SSR has enchanted their audiences at countless shows across Vietnam. The band has started performing in Europe in 2023, including major events like X Jazz (Berlin). Exotic vocals mixed with a hypnotic surf sound are incredibly attractive for every audience.
​With support from *British Council's FAMLAB Fund initiative SSR started to create own compositions in the same vein for their debut album Họa Âm Xưa that was produced by Jan Hagenkötter and released in 2019 on the Saigon Supersound Imprint. The album was recorded in Vietnam with additional guests like the famous (pre 1975) Vietnamese singer Mai Lệ Huyền and the current popular Saigonese rapper "Blacka" in order to combine the old sound with the new sound of Saigon. Some compositions include traditional Vietnamese instruments like the Đàn Nguyệt played by Indy Laville or the đàn tranh & đàn bầu which is played by famous traditionally-trained musician Thị Hải Phượng on the album and also often at the live shows as special guest. This fusion distinguishes it from the original recordings of the 60s and 70s and has resulted in a unique and contemporary sound. Their debut album "Hoa Am Xua" gained international success. Among many other media features It was nominated for the SONGLINES MUSIC AWARDS 2021 in the UK ! and received massive radio airplay and rotations on Radio FIP in France.
Booking in Kooperation mit Best-Works