La Santa Cecilia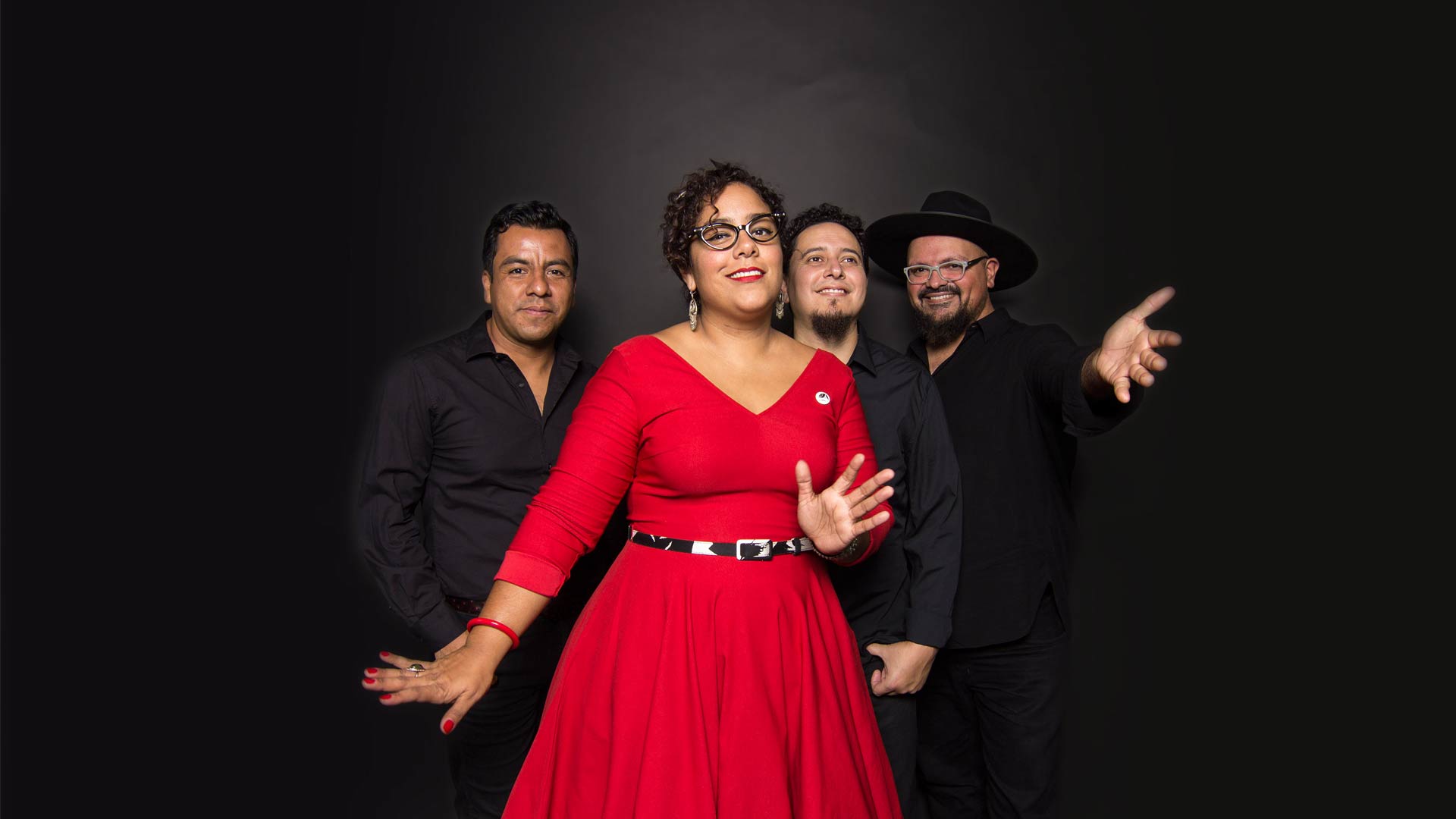 Los Angeles based Grammy winning Mexican-American rock band La Santa Cecilia draw inspiration from all over the world utilizing Pan-American rhythms including cumbia, bossa-nova, rumba, bolero, tango, R&B, jazz and klezmer music. Named after the patron saint of music, La Santa Cecilia, sings with a captivating voice about love, loss, and everyday struggles.
The band has become the voice of a new bicultural generation in the US, fully immersed in modern music, but always close to their Latin American influences and Mexican heritage. Started in 2007 by lead singer Marisol 'La Marisoul' Hernandez, accordionist/requinto player Jose 'Pepe' Carlos, percussionist Miguel 'Oso' Ramirez and bassist Alex Bendaña, La Santa Cecilia have performed at just about every type of venue from rock clubs to festivals in the US and Mexico, including Walt Disney Hall and the Hollywood Bowl in LA. The group won the Grammy for 'Best Latin Rock, Urban, Alternative' Album in 2014 for their album Treinta Días. They were nominated in the same category for their album Buenaventura in 2017 and for Amar Y Vivir in 2018 (all on Rebeleon/Universal Music). With 6 albums under their belt, La Santa Cecilia are currently at work on their 7th album, to be released this year.
La Santa Cecilia exemplify the modern-day creative hybrid of Latin culture, rock and world music. Their unique sounds and the experience of their colorful, passionate performances captivate both loyal fans and new listeners. They perform over 100 shows a year, have collaborated with artists ranging from Elvis Costello to John Paul Jones and their music has been featured in movies (Coco, The Book of Life)) and Television series (Weeds, Entourage*, The Bridge* and the theme song for the Netflix series Ingobernable). La Marisoul recently performed at the Joni Mitchell at 75 tribute (and will perform in March with the LA Philharmonic at The Work And Music of Yoko Ono tribute concert (both at the Hollywood Bowl).